[ad_1]

At a glance, it can be easy to assume most of Barcelona's success in the 21st century was under the management of Pep Guardiola from 2008 to 2012.
While that is arguably their greatest period ever, it's important to remember that they've enjoyed plenty of success before and since then, assembling squads that held a lot of star power. Before the Pep manager era, La Blaugrana won back-to-back La Liga titles from 2004 to 2006.
As you can imagine, trying to pick one singular squad of the greatest Barcelona players in recent times has been quite a task, but we've just about managed it. Here's what an ultimate 25-man squad for the Catalan giants looks like…
---
Goalkeepers Marc-André ter Stegen – Still only 28, the German has already achieved a lot during his time at Barcelona. An incredible shot stopper and a competent sweeper keeper, Ter Stegen has collected 13 pieces of silverware with the club in 224 appearances.
Victor Valdes – Before Ter Stegen, there was Victor Valdes. The Spaniard was the unrivalled number one throughout the Pep Guardiola era between 2008 and 2012. A product of La Masia, Valdes became first choice in 2003, and would make 536 appearances for Barca before leaving in 2014.
Jasper Cillessen – Playing second fiddle to Ter Stegen before departing in 2019, Jasper Cillessen enjoyed success with Barca in the Copa del Rey. He helped his side win the cup in both the 2016/17 and 2017/18 seasons, which earns him a spot in the all-time squad. Not a bad back up choice, by any means.
---
Centre Backs
Gerard Piqué – One of the greatest defenders ever to grace the game, Piqué was always going to be in this squad. His endless abilities have been key to Barcelona's success in the last two decades. Legend.
Carles Puyol – Who sat alongside Piqué during those incredible glory years? Carles Puyol. Fourth-highest capped Barca player of all time, and an absolute rock at the back throughout the 2000s, no Barcelona greats list is complete without the captain.
Rafael Marquez – Marquez was the first ever Mexican to represent Barca, and did so in fine fashion. He made over 200 appearances in eight years with the club, and won a bunch of silverware. He's also nicknamed 'El Kazier' which is infinitely cooler than any other nickname, ever.
Javier Mascherano – Mascherano made his name at Liverpool as an incredibly talented defensive midfielder, but transitioned into an even better centre-back when signing for Barcelona in 2010. He also swept up trophies for fun, but that's not a surprise, is it?
---
Right Backs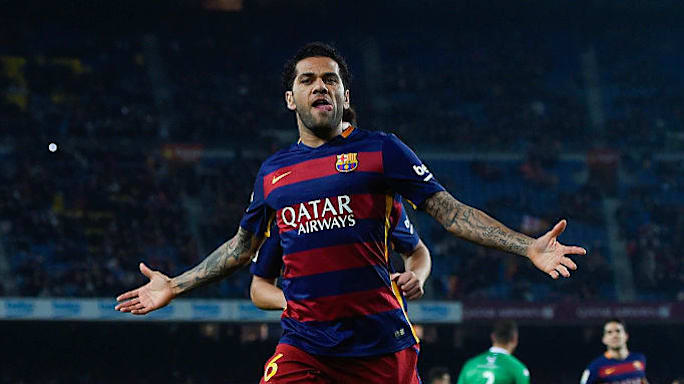 Dani Alves – A machine of player, and the most decorated footballer of all time, Dani Alves set the tone for the modern day full back. His desire to get forward as a tenacious attacking outlet, while still being an astute defensive option, was incredible during his peak.
Oleguer – Oleguer enjoyed a long spell with Barca before Dani Alves took over the role, but was always a solid defensive option. He was also popular with the fans because of his public support of Catalan nationalism.
---
Left Backs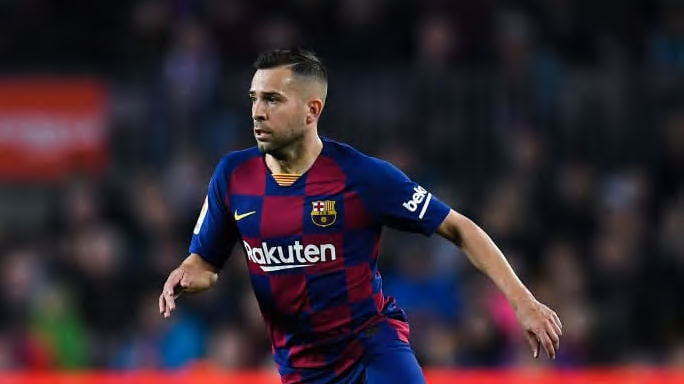 Jordi Alba – Since returning to Barcelona for his second spell in 2012, Jordi Alba has never looked back. He's owned the role of left back ever since, developing into one of the world's best. Again, not a bad trophy haul so far either.
Eric Abidal – Not just a Barcelona hero, but a hero to football fans worldwide. Eric Abidal was an incredible left back during the late 2000s for Barcelona, but gained a new level of respect when he fought off a liver tumour in 2012 and returned to football afterwards. Currently the club's director of football, he makes the squad with ease.
---
Central Midfielders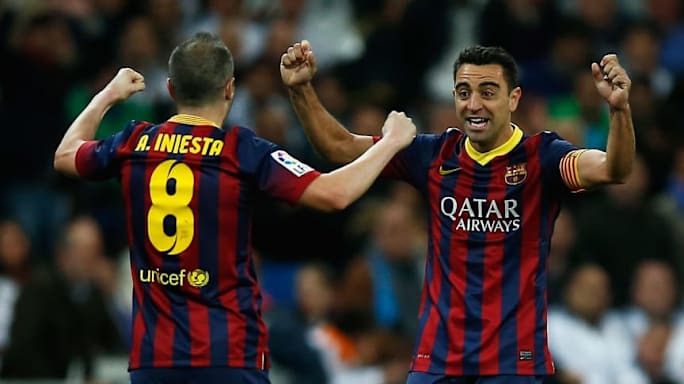 Xavi – The most capped Barcelona player of all time, Xavi was never not making this squad. He joined the club age 11, and forged an incredible partnership with Andres Iniesta throughout his time. Currently managing in Qatar, it is only a matter of time before he takes the reins at Barca.
Andres Iniesta – You can't have Xavi without Iniesta. It's like having Jeff Hardy without Matt Hardy. The two formed an absurd partnership in the heart of the Barcelona team, and dominated the 21st century together.
Sergio Busquets – Who sat behind Xavi and Iniesta during the incredible Pep Guardiola era? Sergio Busquets. The deep-lying playmaker debuted in 2008 and remains with the club today, and is one of the greatest defensive midfielders of all time.
Pep Guardiola – The man who managed the club through its most successful era ever just about creeps into this list. Despite his best performances coming for the club during the 90s as a midfielder, Guardiola didn't leave Barca until 2002.
---
Attacking Midfielders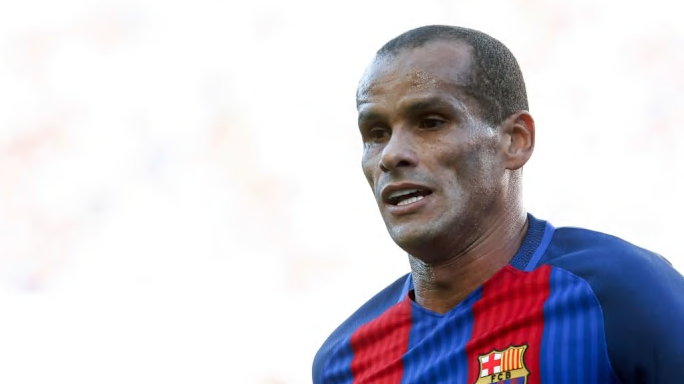 Deco – The Portuguese midfielder surprised fans with his abilities when signing for Barcelona in 2004. Best utilised in a midfield three, Deco was the attacking outlet and was the man behind Ronaldinho that made sure that the magic could happen.
Rivaldo – Creative, eccentric, versatile; Rivaldo is undoubtedly one of the greatest of all time. His best years at Barca were often out wide or as a second striker, but he was also capable of playing in the attacking midfield role. He's another sure thing in this squad.
Luis Enrique – Another example of player turned manager, Luis Enrique was Mr. versatile during his time in the Barcelona kit. Able to play anywhere within the midfield, his versatility was a testament to his natural ability. An easy pick for the dream squad.
---
Right Wingers
Lionel Messi – Words simply cannot do this man justice. The third greatest player ever.
Alexis Sanchez – The first Chilean to play for La Blaugrana, a young Alexis Sanchez quickly adapted to the paces of La Liga, forming an exciting partnership in a front three with David Villa and Lionel Messi. Capable of playing anywhere across the front three, we've made room for him on the right-hand side.
---
Left Wingers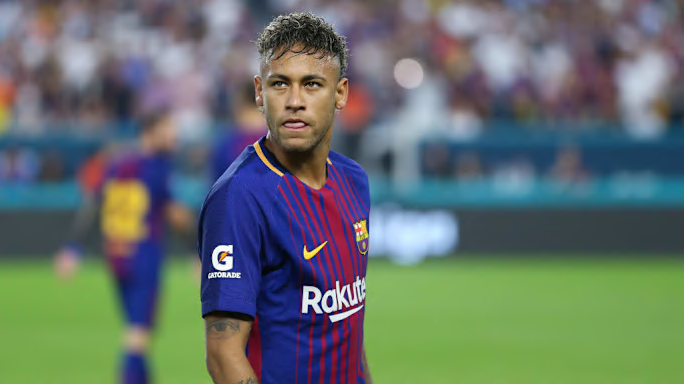 Ronaldinho – One of the most naturally gifted and exciting footballers ever to grace the game, Ronaldinho's ability allowed him to thrive in a number of positions in attack. Ronaldinho was at his peak at Barca, sweeping up a Ballon d'Or and FIFA World Player of the Year and forming an incredible partnership with Samuel Eto'o.
Neymar – Despite what Barca fans might think of Neymar after moving to Paris Saint-Germain, there's no denying his talent on the pitch. Picked out from his native Brazil in 2012, Neymar developed into one of the best in the world alongside Messi and Luis Suarez, and his world record transfer fee is testament to that. No brainer.
---
Strikers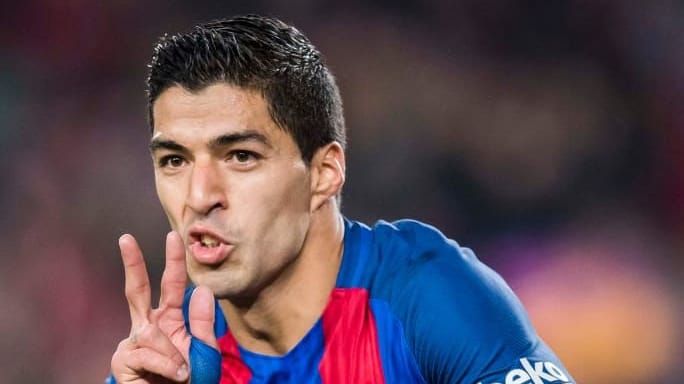 Luis Suarez – A career filled with controversy, but also an insane amount of goals. Suarez has become vital to Barca's success in recent years, and will be an incredibly tough player to replace when he decides to call it a day.
Samuel Eto'o – Forging a terrifyingly good partnership with Ronaldinho in the mid 2000s, Eto'o is one of the first names on the team sheet, never mind in the squad. The Cameroonian won everything there was to win with Barca, but somehow never managed to pick up a Ballon d'Or.
Patrick Kluivert – Before Eto'o took the reins, Kluivert was steering the ship up top. The Dutchman scored 123 goals in 259 games for Barca, but only won one La Liga during his stay. Still, though, his impressive record bags him the final place in the squad.
---
[ad_2]

Source link